Bringing Together Research, Training & Entrepreneurship
The NBIC Doctoral Training Centre
The NBIC Doctoral Training Centre in Biofilms Innovation, Technology and Engineering (BITE) is a world class integrated pipeline of interdisciplinary training, involving a partnership between the universities of Southampton, Liverpool, Nottingham and Edinburgh. It is the UK's first graduate training centre to address the skills and knowledge gap in the biofilm field. 
The Doctoral Training Centre provides a unique and diverse environment to students, with opportunities to network with experts in other disciplines, engage in peer-to-peer learning and participate in collaborative problem solving, as well as partake in student exchanges with international centres of excellence, attend summer schools, joint-nature conferences, and secondments and masterclasses showcasing frontier thinking. The Doctoral Training Centre provides the synergy, critical mass, and the breadth and depth required to deliver an ambitious training programme in biofilm science, engineering and technology.
Functional surfaces and materials; Smart nanotechnology; Plasma engineering; Imaging; 'Omics and Bioinformatics; Microbiorefinery; Infection Control; Modelling for healthcare.
Quorum Sensing and signaling; molecular recognition; drug discovery; polymer discovery; biomedical engineering; AMR; modelling; Synthetic Biology; Advanced Microscopy.
Building Entrepreneurial Skills
NBIC provide entrepreneurial training for early career researchers and established academics.
Alderley Park Accelerator
On-site incubation and acceleration team specialises in the start-up and scale up of biotech and life science businesses by providing the programmes, networks and support required for success.
ICURe Innovation-to-Commercialisation Programme
The ICURe Innovation-to-Commercialisation programme offers university researchers with commercially- promising ideas the ability to 'get out of the lab' and validate their ideas in the marketplace. From idea to scale-up, SETsquared offer a comprehensive range of programmes to help boost businesses to the next level.
Our Doctoral Training Centre in Biofilms Innovation, Technology and Engineering (BITE) Students
Meet our first cohort of NBIC DTC BITE PhD students.
Ying Hu
Ying has recently started as a Postgraduate research student in the School of Biological Sciences at the University of Southampton, funded by a China Scholarship Council (CSC) scholarship.
Ying received her BSc from the Huangshan University (China) and MSc from the South China Agricultural University (China). Her work for her MSc examined Phylogeography of Toona ciliata (Meliaceae) in China inferred from cpDNA markers and ecological niche model analyses. As part of her MSc studies she got the opportunity to visit the University of Southampton on a 3 month research visit. The two stages of study made her interested in the study of molecular biology and microorganism.
Her current Postgraduate studies focus on bacterial biofilm formation and antibiotic resistance during chronic infection, with a drive towards developing new biofilm models and their application to evaluate new approaches for disease control.
Zhixiu Yan
Zhixiu is a Postgraduate research student in the School of Biological Sciences at the University of Southampton. She received both her BSc and MSc in Food Sciences from the Beijing Forestry University (China). Her research for her MSc focused on the isolation and characterization of novel antimicrobial peptides from Spirulina platensis, also known as blue-green algae.
Zhixiu recently won a China Scholarship Council (CSC) scholarship to start a PhD with NBIC. Her project focuses on understanding signal transduction systems that utilise cyclic di-GMP as a second messenger and serve to link the perception of different environmental signals to alterations in bacterial behaviour.
Adam Sherwin
Adam completed both his BSc in Biomedical Sciences and MRes in Clinical Sciences at the University of Liverpool. His research centres around bacteria associated with the human respiratory tract, particularly the opportunistic pathogen Pseudomonas aeruginosa. Themes explored during his previous projects include biofilm formation, development and dispersal, gram-negative bacterial genetics, antimicrobial resistance, and novel therapeutics to combat infection.
Adam's PhD project is supported by NBIC's DTC in BITE. The programme, in collaboration with Unilever, focuses on the use of advanced physical and biological science approaches to better understand synergistic antimicrobial technologies.
Simone Lucanto
Simone completed his Bsc in Biology (2017) and Msc in Molecular Biology (2018) at Roma Tre University. He then did his Master's project at the University of Nottingham with Professor Miguel Cámara (NBIC Co-Director) as the main supervisor. The main theme of his project was discovering anti-Quorum Sensing (QS) compounds active against Pseudomonas aeruginsa and determining their ability to inhibit toxins production (e.g. pyocyanin) and biofilms formation.
Simone is now a PhD student at the University of Nottingham, within the Biodiscovery Institute (formerly the Centre for Biomolecular Sciences). His project focuses on the use of single-chain antibodies (scAbs) able to recognize P. aeruginosa QS molecules, as a novel therapeuthic approach to treat P. aeruginosa infections. Investigation of the impact of this Quorum Quenching strategy against P. aeruginosa biofilms will be an essential part of the project.
Katherine Roe
Katherine studied an MSci in Biochemistry at the University of Southampton, specialising in Microbiology during her fourth year and leading her to pursue a PhD in Microbiology.
Katherine is currently working in collaboration with Mondelēz international at the University of Southampton on "Oral biofilms: A fundamental understanding to target improved oral health and breath freshness". The three main aims for this PhD include developing an in-vitro oral model system for testing chewing gum; investigating the effects of storing the bacteria in -80 freezers, growing them in the system; and finally the effect of chewing gum on the population dynamics of the human saliva samples. The final aim is to investigate the effects of novel antimicrobials on human oral biofilms.
Declan Power
Declan completed his undergraduate (BSc) in Microbiology at Nottingham Trent University, and an MSc in Medical Microbiology at the University of Manchester. His past research focused on gram negative bacteria includes: K. pneumoniae UTI infections and the virulence associated with increased resistance to clinical antimicrobials; and the characterisation of biofilm recalcitrance in silver adapted Pseudomonas aeruginosa isolates from chronic diabetic foot wounds with an interest in alginate production.
He is currently a PhD student at the University of Southampton where his project focuses on the pre-clinical development of targeted small molecule dispersal agents for the treatment of P. aeruginosa biofilm infections in Cystic Fibrosis patients. This work is part of a Strategic Research Centre funded project between Imperial College London and the Cystic Fibrosis Trust.
Alexandra Jackson
Alexandra completed her undergraduate (BSc) in Marine Biology and went on to work with AkzoNobel, within the fouling control team looking at characterising marine biofilms. She is now a PhD Student at the University of Southampton, within the Faculty of Engineering and Physical Sciences. She is working as part of the nCATs team (national Centre for Advanced Tribology) and is interested in the mechanical properties of marine and artificial biofilms, using these to better understand drag on ships.
She plans to use artificial biofilms (elastic materials) with physicomechanical properties comparable to marine biofilms, to study mechanical response under hydrodynamic shear and the effect on drag. Viscoelasticity of biofilms is of interest and she is hoping to capture this using Optical Coherence Tomography and flow cell experiments. What is learnt from artificial biofilms will, hopefully, be translated to natural marine biofilms, of which will be studied under the same conditions. 
Iona Willingham
Iona graduated with a medical degree (BMBS) from the University of Nottingham in 2012. During her undergraduate studies she also completed an intercalated BMedSci in medical genetics. Since then, she has progressed through the clinical ranks of the NHS, becoming a Member of the Royal College of Physicians in 2017 and is currently a senior registrar specialising in microbiology and infectious diseases.
Iona is now taking time out of her clinical training to study for a PhD. The focus of her research is the characterisation and evaluation of anti-biofilm complexes produced by 5D Health Protection Group, particularly their effect on biofilms found in wounds. She hopes to keep a clinical focus to her research with plans to collaborate with NHS colleagues to test the complexes on "real life" patient samples once initial testing has been completed on laboratory models.
Meet our second cohort of NBIC DTC BITE PhD students.
Liam Jones
Liam Jones is a postgraduate research student in Biological Sciences at the University of Southampton and is a part of the South Coast Biosciences Doctoral Training Programme (SoCoBio DTP). Liam has studied Biochemistry at undergraduate and Masters level at the University of Waikato, NZ and University of Manchester, UK respectively. Liam worked as a technical assistant at Qiagen and a scientist at Medtrade Products Ltd before returning to academia. At Medtrade Liam was particularly interest in the research and development of new technologies in advanced wound care to help manage biofilms.
Liam is striving to become a specialist in the area of biofilm research. His PhD focusses on the development of a model system to investigate the role of biofilm communities within microbiologically-influenced corrosion (MIC) and their control using industrial biocides. Commercially available biocides as well as novel antimicrobial compounds can then be introduced and investigated.
Erin Myles
Erin completed both my BSc in Biomedical Science (Neuroscience) and MRes in Biosciences at Cardiff University. Her MRes research focused on utilising novel antimicrobials for the treatment of Clostridium difficile, the leading cause of infectious diarrhoea within hospitals worldwide.
Erin is now a PhD student at the University of Liverpool, within the School of Engineering. With the increasing global threat of antibiotic resistance, her project under the supervision of Dr Raechelle D'Sa, focuses on the use of nitric oxide based antimicrobial surfaces to prevent bacterial and viral adhesion. The project aims to develop new applications in treatment of common hospital acquired infections, as an alternative to antibiotics.
Elizabeth Ison
Having studied for a BSc in Medical Physiology and Therapeutics at the University of Nottingham, Elizabeth developed an interest in research pertaining to real-life healthcare applications.Now a first year PhD student at the University of Nottingham, Elizabeth is studying the initial interactions of oral bacteria with dental surfaces.
The oral cavity contains a rich and diverse microbial community, mainly consisting of non-motile bacteria. With a view to better understanding oral plaque development and prevention strategies, she is using digital holographic microscopy to improve the visualisation and quantification of such events. Her work is funded by GSK and will produce high resolution images of the interaction events at a single cell level, studying how they lead to biofilm development and how oral care products influence this.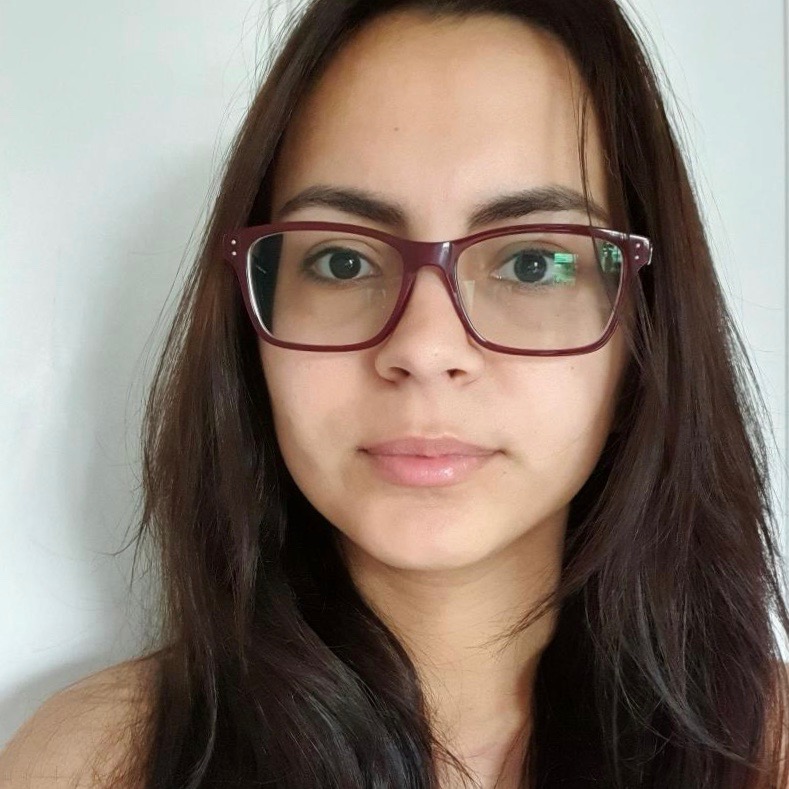 Valentina-Marina Bucur
Valentina has completed an integrated master's degree at the University of Liverpool. Throughout the course she has taken a wide variety of modules, most of them with applications in biology and physics, and she has completed two master's projects: 'Topological patterns formed by cells in growing epithelial tissue' and 'Acoustic Rayleigh-Bloch waves'.
Her PhD is looking at bacterial competition and colonization. Her research group will be looking into developing a mathematical model describing cell movement and competition in the early stages of biofilm formation. They will be looking at the chemotactic response of bacterial species to a single chemical. Their model is aiming to describe how different properties of the bacteria and the surface affect colonization.
Melissa Maher
Melissa received her MChem in Chemistry from Manchester Metropolitan University where her main research project aim was to synthesise broad-spectrum antibiotic candidates, which gave her experience in both organic and inorganic synthesis. She gained analytical experience from three summer placements working as a research assistant, where one led to publication.
Melissa has now undertaken a cross-disciplinary PhD at the University of Nottingham in cooperation with the faculty of Engineering, the school of Chemistry and the school of Geography. Her research will be focused on understanding the extent and impact of plastic pollution on water quality and services using established and emerging analytical techniques, and will aim to explore the fragmentation of plastic due to abiotic or biotic degradation and how environmental conditions influence plastic fate.
Jasmine Cutler
Jasmine is a Postgraduate Research student with the BBSRC DTP at the University of Nottingham Faculty of Engineering, working within the Sustainable Process Technologies Research Group. She received an MSci in Natural Sciences from Lancaster University which included a final year research project on the use of synthetic biology to produce an organism capable of bioremediation by overaccumulation of salt.
Jasmine's current research project focuses on the biodegradation of plastic by novel bacterial strains- a process which often involves formation of bacterial biofilms on the surface of the material.  Deeper understanding of the mechanism of bacterial plastic degradation is required for this technology to be used in the future as a possible strategy to solve the global plastic waste crisis. This could potentially be developed into a process to produce valuable products from plastic waste. 
Meet Our Team of Research Fellows
Meet our team of dedicated Interdisciplinary Research Fellows who work to deliver NBIC's research strategy.