Research Areas & Focuses
Quorum sensing singalling in biofilms
In vitro and in vivo biofilm models, human skin, mouse catheter, histology
Drug discovery, medicinal chemistry, structural biology
Polymicrobial biofilm interactions
Biofilm human host interactions
Mechanisms of biofilm surface interactions
Chemical analysis of surfaces and biofilms
Novel Biofilm Target Discovery
Mechanisms of biofilm formation and dispersal
High throughput screening of antibiofilm surfaces – polymer arrays
MRI detection of biofilms
For enquiries, please contact Miguel Cámara.
Researchers
Morgan Alexander, Pharmacy
Steve Atkinson, Life Sciences
Jon Aylott, Pharmacy
Michael Barlow, Physics
Helen Barr, Medicine (Respiratory)
Laura Barrientos Moreno, Life Sciences
Roger Bayston, Medicine
Samantha Bryan, Life Sciences
Miguel Cámara, Life Sciences
Veeren Chauhan, Pharmacy
Ian Connerton, Biosciences
Georgios Dimitrakis, Chemical and Environmental Engineering
Adam Dundas, Advanced Materials Research Group
Ahmad Elsahn, Opthalmology
Richard Emes, Vet School
Jonas Emsley, Pharmacy
Helena Gomes, Engineering
Rachel Gomes, Engineering
Nigel Halliday, Life Sciences
Kim Hardie, Life Sciences
Stephan Heeb, Life Sciences
Laura Hobley, Biosciences
Andrew Hook, Pharmacy
Tanvir Hussain, Engineering
Derek Irvine, Pharmacy
John King, Mathematical Sciences
Christina Lee, English
Kelly Lee, Life Sciences
James Leigh, Vet School
Simone Lucanto, Life Sciences
Robert Markus, Life Sciences
Luisa Martinez-Pomares, Life Sciences
Alvaro Mata, Pharmacy
Celia Mayer, Life Sciences
Nigel Minton, Life Sciences
Nick Mitchell, Chemistry
Stephen Morgan, Electrical and Electronic Engineering
Paolo Pantalone, Life Sciences
Galina Pavlovskaya, Medicine
Andrew Prayle, Medicine
David Quain, Biosciences
Clive Roberts, Pharmacy
Shaun Robertson, Life Sciences
Manuel Romero, Life Sciences
Felicity Rose, Pharmacy
Tim Self, Life Sciences
Alan Smyth, Medicine (Child Health)
Fadi Soukarieh, Life Sciences
Michael Stocks, Pharmacy
Nicholas Watson, Chemical and Environmental Engineering
Fiona Whelan, Life Sciences
Ricky Wildman, Engineering
Paul Williams, Life Sciences
Iona Willingham, Life Sciences
Klaus Winzer, Life Sciences
Robotic Platforms
The robotic suite is a custom-made system that consist of two interconnected robotic platforms located in the synthetic biology research centre (SBRC). The robotic system allows for the setup of customized protocols and workflows. It gives a wide range of options for gene assembly, microbial transformation (chemical and HT electroporation), colony plating and picking, transformant library screening, purification of nucleic acid, proteins and analytes, size section of DNA bands, high throughput electrophoresis and screening of compound libraries.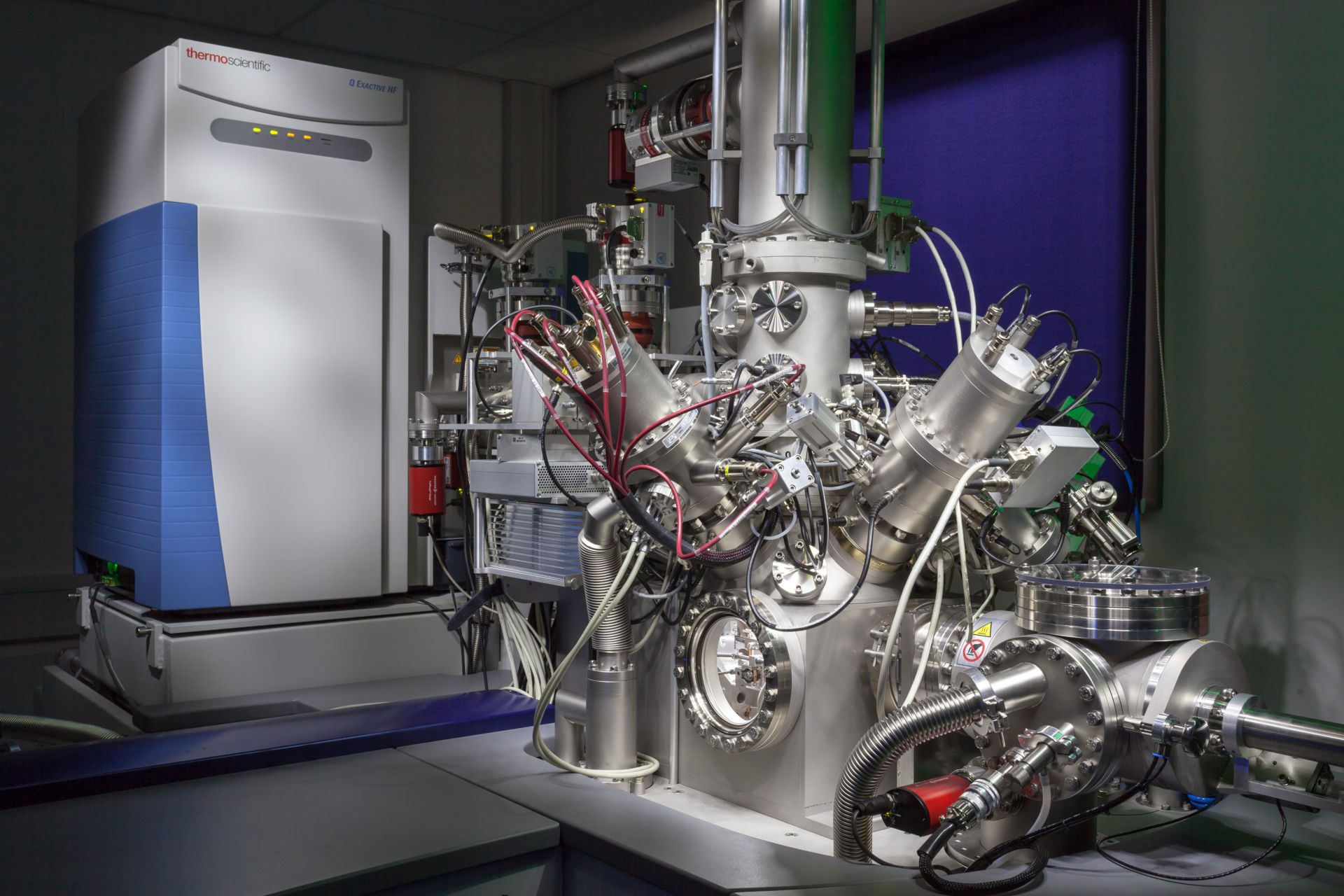 3D OrbiSIMS
A Time of Flight Secondary Ion Mass Spectrometer (ToF-SIMS) with hybrid OrbiTrap™ functionality, the '3D OrbiSIMS' is the first of its kind in an academic setting. Based on the prototype at the National Physical Laboratory (NPL) the instrument combines the function of the two hybridised components to facilitate an unprecedented level of mass spectral molecular analysis for a range of materials (hard and soft matter, biological cells and tissues).